Alternative & Holistic Health Service
Therapist · Counselor · Alternative
Contact Rob to have him come to your area for classes, retreats, and more.
(703) 966-6878


A New Experience by Fasting
Written by The Spiritual Biker
It's been awhile since I've been on more of the spiritual metaphysical path. With the introduction of Reiki in 2011 everything has been moving at a fast and rapid pace. Even with the fast and rapid pace there have been many challenges that I have resisted that are now starting to move forward.





The last 48 hours has been a little bit of a whirlwind. I decided to go ahead and do a fast and to see how long I could go. To my amazement I lasted 18 hours.





I actually found that it was enjoyable and not nearly as hard as I thought it would be. I am one of those people that really never sits down for a meal and likes to just snack. I do not like to feel heavy and lethargic after eating. With the idea of fasting I took a moment to reflect on my eating for 24 hours prior to starting. I'm not sure if it was intuitively or just realistically knowing my body, that I decided not to do or to eat certain things prior to starting the fast. I was conscious of my sugar, carbs, and caffeine intake. I have been one of those people that in the past would drink too much coffee, have too much sugar and carbs, and then wonder why my body would crash.

I spent at least 12 hours getting ready for the fast before starting the fast. I was simply amazed at how easy it felt and how my body was at ease just drinking water. I originally stated to myself that I just wanted to do 14 hours. At the 14-hour mark I found myself getting hungry and told myself I can go further and had another glass of water. At 18 hours I realized I was hungry and since I was away from home I stopped.

What's a good fast food junkie to do. After waiting nearly 18 hours to eat and being fine I had to eat now. I did not even want to wait the 30 minutes to get home to actually make something. With this being said I went through the great golden arches and got myself a hamburger. It is not unusual for me to get a meal and not eat the french fries but yesterday I was hungry. I ate more french fries then I normally do, I ate the hamburger and drank the coke. Immediately following I felt so lethargic and tired and just wanted to go home and go to sleep.

It is amazing how I could go 18 hours without food and then not want to wait 30 minutes for something good and healthy, to then feeling lethargic and tired and even a little cranky from what I put in my body.

Well today started off normally with my cups of coffee but just two pancakes. I would have to say I think my body liked feeling clean. As the feel from the coffee started to leave my body I started to feel all sorts of changes. At this point I decided I needed a good meal and I stopped. I've really found myself taken by what my body has told me over the last 48 hours.





I've always thought that I listened to my body but apparently it's been trying to tell me other things for a long time. It'll be interesting to see how everything moves forward and continues. I always say that pain and fear is a motivator and yet why do we have to wait for it to get to that point. By abstaining from certain foods, I found my energy was better as well as not having as many peaks and valleys.





I have had many friends and colleagues tell me their stories about fasting and I continued to naysay them. I had a dear friend of mine who is no longer with us who said that he would use fasting twice a year to ease the symptoms of his Lyme disease. He would say that the pain would go away with the cleansing in his body. I look forward to the next time that I fast, and I never ever thought I would ever hear that come from my mouth or even have that thought in my head.


Namaste
Rob Pritchard
Cert. Life Coach Cert. Hypnotist and Master Healer
www.thehealingfrequency.net/for essential oils
www.mydoterra.com/RobertPritchard/#/703-966-6878
It's not always easy to overcome personal obstacles, whether you're focused on weight loss, stress, chronic pain, or spiritual wellness. That's where Rob Pritchard can aid you. He's been helping those around him heal since he was a young boy and, as an adult, he's studied many disciplines to hone his natural gifts. He combines Reiki, hypnosis, and energy psychology with other disciplines to create an integrated approach to life coaching. His courses are geared toward those who want to make a change in their life, and his attentive personality ensures that each student receives thoughtful assistance on their journey toward holistic health.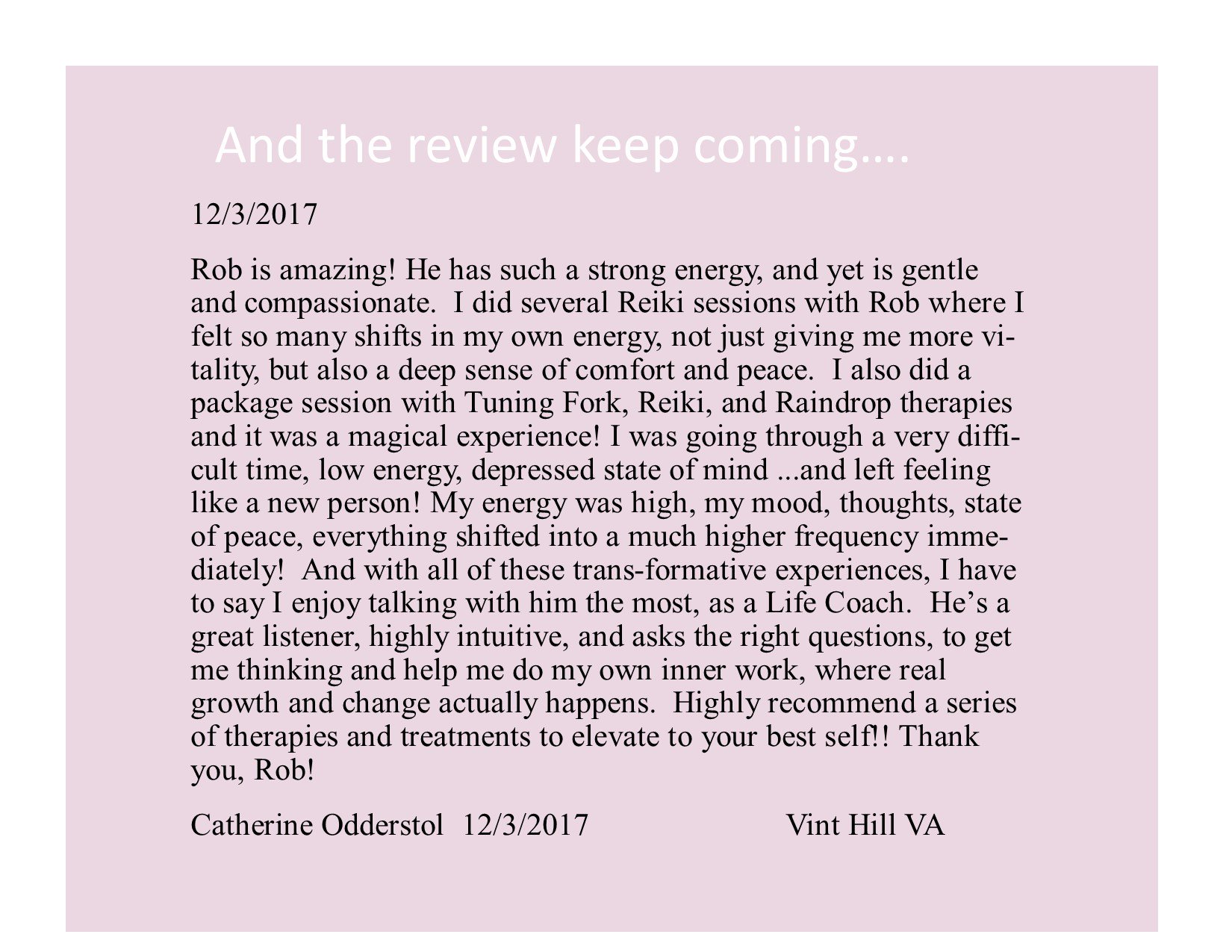 Robert Pritchard a professional @ReikiMaster
Take a look at his website for more info
Reiki, Life Coaching, Hypnosis, Integrated Energy Therapy, Theta Healing, Access Bars, Tuning Fork Therapy, Meditation, Bach Flower Consultation, Essential oils Consultation with Aromatherapy, Tarot Card Reading, Five Week Challenge,
Kundalini (Rising) Awaking
~~~~~~~~~~~~~~~~~~~~~~~~~~~~~~~~~~~
From Rob~~~ Listen here, then contact to learn how you can have a hypnosis session yourself over the phone~
Short Daily Hypnosis session for you when ever you just want to feel better and need more energy.
Don't know if you can be hypnotized?
If you think about it Everyone goes into hypnotic state every day.
Do you suffer from anxiety when going to the dentist?
He can even do sessions over the phone!!
Contact him for more information
Read Below from a client about the #hypnosis that changed this life forever.
7/28/2016~~
Rob has changed my life by helping me conquer my fear of having dental work done. My entire life I have suffered from acute panic attacks triggered by dental visits. If anyone has ever had or witnessed a panic attack they know that while they are irrational they are also very real. The symptoms are a fear so intense that your heart races, you have trouble breathing or you hyperventilate, your body shakes and you sweat, you cry or scream and you really feel like you are going to die. Even a simple visit to have my teeth cleaned could bring on these symptoms for me. I had tried laughing gas, anti anxiety meds and sedation dentistry. Even the sedation could not calm me the fear was too great. All sedation ever did was incapacitate me so the dentist could work on me. Finally I saw Rob for 4 hypnosis sessions. Rob put me in a hypnotic state before I had a tooth extracted and the experience was amazing. I had the procedure done with no sedation and for the first time ever absolutely no fear or panic. I have never felt so calm and relaxed. I feel like this dark shadow I've had over me is gone. I am so grateful to Rob for this miraculous healing.


Just a few of his reviews!
I had the amazing time with Rob, he's the real deal! I'm living with terminal cancer, and have had many ppl who have helped me. Rob is truly a healing soul. His knowledge and modalities were very positive and helpful. I've been seen by many folks that said the did Reiki..but he really is..just amazingly healing. Not only healing my broken body, but my mind and soul! I'm very blessed to have that time with him..Hope to see him again. I highly recommend his services!
Rob and I have crossed paths for many years and have been great friends for a while now. His practice helps to provide me with another perspective in areas of my life where, as a leader, I have few to talk to. As a Kung Fu Master I trust very few people with access to myself, yet as I get older I feel that Rob's Reiki practice helps me to continue to do what I love in a more productive manner.
I have known Rob for a long time. I have watched and experienced his growth as he has learned throughout the years. Rob is extremely gifted, a great mentor, and an even better friend. He is an amazing person and has touched many people's lives since I have known him.
Rob offers a unique 5 week program that bundles Reiki, Theta and Life Coaching all-in-one. I have had the privilege of experiencing his energy healing and coaching and have noticed shifts in my life almost instantly. I leave feeling clear headed, empowered and ready to take back control of my life!
Rob is a gifted healer. I'd been looking for "mindful counseling" in the Warrenton area and couldn't find what I needed until I met Rob at a meditation "meet up." He (and Reiki) were so wonderful in helping me to work through my grief. I am very thankful that I met him.
I frequently have Rob come to my wellness center to provide meditation sessions and teach Reiki classes. He is an amazing teacher and wonderful healer. Book with him today! You will not be sorry!