Alternative & Holistic Health Service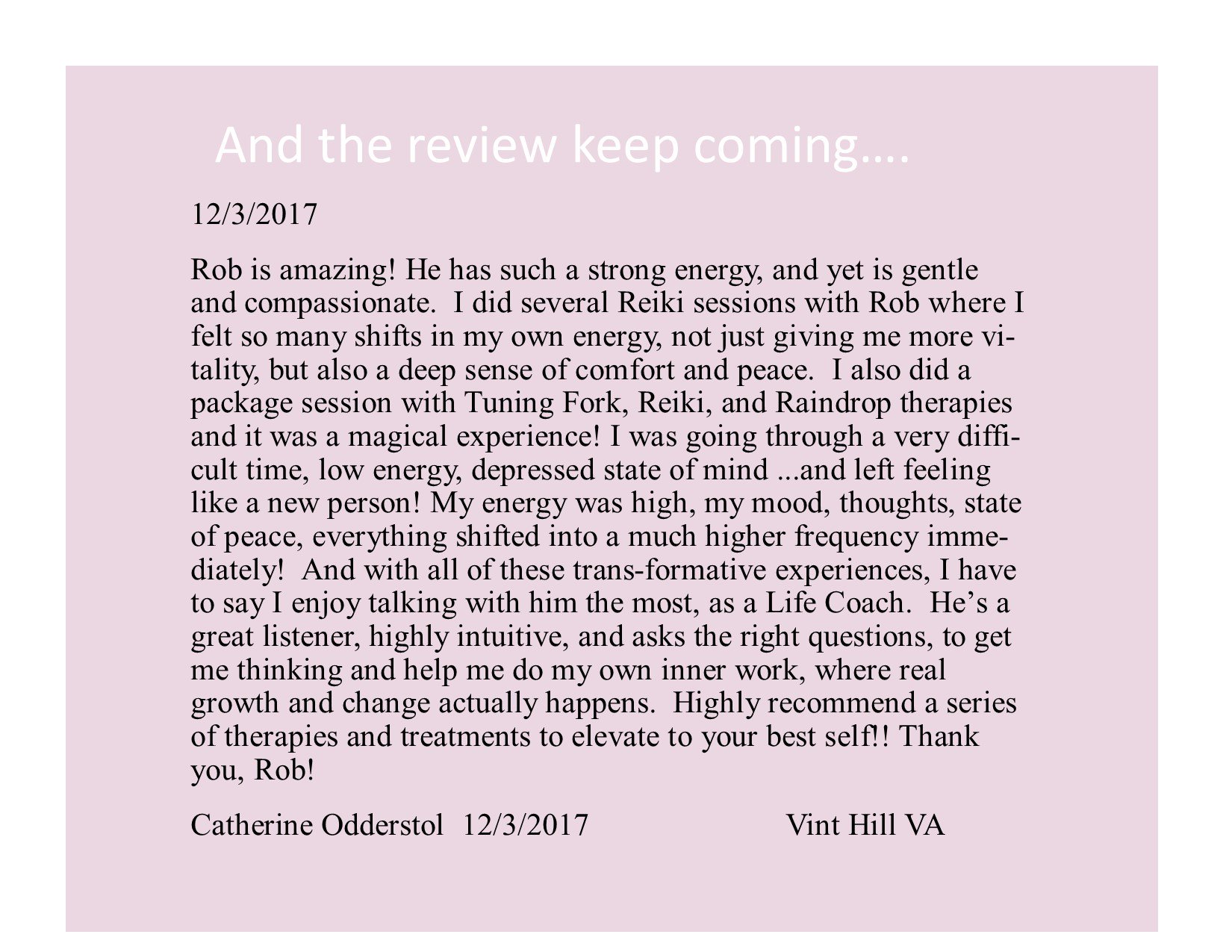 Robert Pritchard a professional @ReikiMaster
Take a look at his website for more info
Reiki, Life Coaching, Hypnosis, Integrated Energy Therapy, Theta Healing, Access Bars, Tuning Fork Therapy, Meditation, Bach Flower Consultation, Essential oils Consultation with Aromatherapy, Tarot Card Reading, Five Week Challenge,
Kundalini (Rising) Awaking
~~~~~~~~~~~~~~~~~~~~~~~~~~~~~~~~~~~
From Rob~~~ Listen here, then contact to learn how you can have a hypnosis session yourself over the phone~
Short Daily Hypnosis session for you when ever you just want to feel better and need more energy.
Don't know if you can be hypnotized?
If you think about it Everyone goes into hypnotic state every day.
Do you suffer from anxiety when going to the dentist?
He can even do sessions over the phone!!
Contact him for more information
Read Below from a client about the #hypnosis that changed this life forever.
7/28/2016~~
Rob has changed my life by helping me conquer my fear of having dental work done. My entire life I have suffered from acute panic attacks triggered by dental visits. If anyone has ever had or witnessed a panic attack they know that while they are irrational they are also very real. The symptoms are a fear so intense that your heart races, you have trouble breathing or you hyperventilate, your body shakes and you sweat, you cry or scream and you really feel like you are going to die. Even a simple visit to have my teeth cleaned could bring on these symptoms for me. I had tried laughing gas, anti anxiety meds and sedation dentistry. Even the sedation could not calm me the fear was too great. All sedation ever did was incapacitate me so the dentist could work on me. Finally I saw Rob for 4 hypnosis sessions. Rob put me in a hypnotic state before I had a tooth extracted and the experience was amazing. I had the procedure done with no sedation and for the first time ever absolutely no fear or panic. I have never felt so calm and relaxed. I feel like this dark shadow I've had over me is gone. I am so grateful to Rob for this miraculous healing.


Just a few of his reviews!
I had the amazing time with Rob, he's the real deal! I'm living with terminal cancer, and have had many ppl who have helped me. Rob is truly a healing soul. His knowledge and modalities were very positive and helpful. I've been seen by many folks that said the did Reiki..but he really is..just amazingly healing. Not only healing my broken body, but my mind and soul! I'm very blessed to have that time with him..Hope to see him again. I highly recommend his services!
Rob and I have crossed paths for many years and have been great friends for a while now. His practice helps to provide me with another perspective in areas of my life where, as a leader, I have few to talk to. As a Kung Fu Master I trust very few people with access to myself, yet as I get older I feel that Rob's Reiki practice helps me to continue to do what I love in a more productive manner.
I have known Rob for a long time. I have watched and experienced his growth as he has learned throughout the years. Rob is extremely gifted, a great mentor, and an even better friend. He is an amazing person and has touched many people's lives since I have known him.
Rob offers a unique 5 week program that bundles Reiki, Theta and Life Coaching all-in-one. I have had the privilege of experiencing his energy healing and coaching and have noticed shifts in my life almost instantly. I leave feeling clear headed, empowered and ready to take back control of my life!
Rob is a gifted healer. I'd been looking for "mindful counseling" in the Warrenton area and couldn't find what I needed until I met Rob at a meditation "meet up." He (and Reiki) were so wonderful in helping me to work through my grief. I am very thankful that I met him.
I frequently have Rob come to my wellness center to provide meditation sessions and teach Reiki classes. He is an amazing teacher and wonderful healer. Book with him today! You will not be sorry!